Are Training and Development programs important for organizations
15th May 2020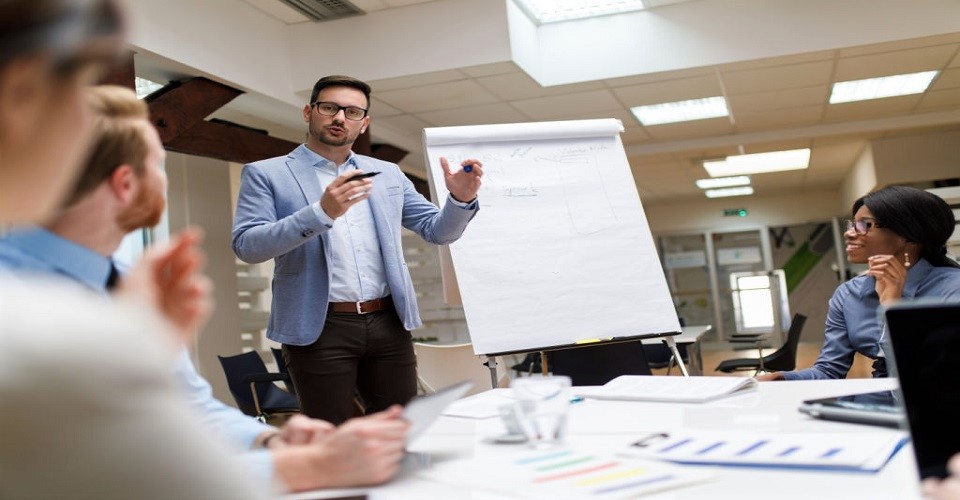 We live in a capitalistic society where change is a classic ongoing process. It becomes essential to not only survive but also to thrive along with the uncertainty. Not to mention, the fast pace race within the industry, requires an organization to be competitive and combat the unpredictability with lemonade.
An organization is the sum total of employees' achievement, therefore it is crucial that the management should involve employees in the strategic structure by providing proper training and development program, to make each employee aligned and competent towards achieving the common goal.
The idea of providing training and development, not only curtails the cost in other areas, it also makes the employee skilled and advanced to make the implementation process much faster. Investing in training and development at first may seem a little expensive, but with keeping the concept of quality over quantity, it becomes crystal clear that a sharp and skillful employee will evidently perform better and will achieve more rather than an untrained employee.
Why training is essential in workplace?
Increase in overall productivity and operational efficiency in the organization
Enhances company image as well as helps in maintaining quality standard
Increases capacity to learn and adopt new technologies and strategies
Enhances employee confidence and motivation
Reduction in turnover, absenteeism, errors and accident in the workplace
Makes the organization flexible and adaptive to uncertainty and changes in the market
Better approach towards risk management, e.g., sexual harassment, diversity training
Reduces supervision and direction
What is the outcome of ongoing training in the organization?
It helps the employee to boost their confidence as a result of which, it becomes easier for them to adopt new changes in technology and implementation of their job role as per the latest strategy
Training program helps to facilitate the growth and career development of employees
Training and Development:
Training and development are an integral part of the management system. Providing proper training program in interval helps to build strong skills and knowledge in the employees. This helps an organization to facilitate and implement the change in resources or change in technologies or change in the manpower structure.
The Goals
Improves skills and knowledge in the employee, leading to boost the confidence, morale and efficiency
Provides solution towards monitoring needs and risk management
Increases overall organization productivity
Improves sustainability, flexibility adoptability and scalability
The Objectives
To maintain effective management
To keep the employees up to date with the technology and equipment handling
To improve productivity and enhance readiness within the employees
To provide clarity with job related knowledge
To prepare employees for advancement
The Benefits
Improvement in employee performance – There are two things that can be achieved through training employees, first, employees are at greater understanding of their responsibilities, and second, it becomes easy to build their confidence. As result, each employee will have better approach towards being innovative and creative to stand and prevail in the industry.
Addressing weaknesses – One of the prime reasons why Training and Development of the employee is beneficial, it helps to eradicate the weaknesses of individual employee. Providing training program allows to step up the skills and knowledge every employee which equips an organization to maximize its productivity.
Cultivating growth – It is a fundamental agenda that an organization is always focusing on its growth. Growth can be achieved only when each employee is aligned, skilled and motivated towards the goal of the organization and paying equivalent attention towards the development like their leaders.
Improving employee satisfaction – Proper training and development program leads to build up the skill and knowledge that employee requires, which in turn results into strengthening the confidence in them. Once an employee is confident and motivated enough, the task to execute their job role to the mark is easily achieved. This leaves a huge impact on the employee satisfaction and morale.
Maintaining Consistency – A potent training and development enables and ensures consistent performance in employees. It is important for an organization to keep a healthy flow of its performance in the industry.
Reducing employee turnover – It has already been established that providing robust training program to the employee enhances the employee satisfaction, therefore, it is likely that there is a less chance of changing employer. Employee retention improves with training, this helps to minimize on the cost of recruitment.
Additional Benefits -
Overall productivity of an organization accelerates
Establishing company's reputation and building good profile in the market
Increasing adaptability in the market for every uncertain change
Maintain standard and quality of the organization every now and then
Helps to create innovative ideas and product to prevail as well as thrive in the market
Employees become self-driven towards their performance
The impact of training and development is immense in the format of an organization. Just like any other essential function, the training and development program for the employees lets the organization to achieve its target as it can be regarded as capital investment.
Written By : Dr Sanjib Neil Chakraborty