Certificate in Teaching, Training and Developing Professionals (In class)
Course Overview
Delivering a training program requires expertise and considering this, Asian College of Teachers has designed Certificate in Teaching, Training and Developing Professionals - an in class program which will help you gain a practical overview of the entire training process through modeling of the best practices and latest techniques in training delivery as you become aware of the 4Ps of training: Purpose & Assessment, Planning & Preparation, Presentation & Facilitation and Performance & Evaluation. Aspiring trainers will gain a strong foundation in critical training skills and seasoned trainers will be introduced to new approaches for delivering an impactful training.

ACT's in class certificate course content is practical and performance-focused and not just academic theory. This program focuses on what happens before, during and after you deliver training, and what to do if training is not the right solution. This course enables the first time as well as experienced trainers to develop their skills in training delivery, assessed against measurable, objective criteria. This practical, skill-based course offers a structured approach to meticulous planning and delivering powerful training. It is important for even the most experienced trainers to rework on their training delivery skills from time to time to ensure effective transfer of learning. The course has the primary objective of encouraging self-assessment in order to reinforce the new and experienced trainers' generic skills.

This course offers a structured yet flexible approach to need analysis, adult learning principles, training designing and delivery and evaluation which encourage a consistent approach to come up with great learning events.
This course will help you :
Understand the basics of adult learning theory and how to prepare for and facilitate a training program
Gain a foundation in conducting a need analysis, developing learning objectives and evaluating the impact of your training initiatives
Learn and apply effective training techniques for managing participants, implementing a variety of learning styles, creating a positive learning environment and managing classroom challenges
Develop engaging training solutions that are learner-centered
What can you expect?
Pre-Work : Complete a self-assessment and read an ACT Infoline titled, "Do's and Don'ts for the New Trainer".
Homework : You will feel the need to do some preparation for your skill practice outside the classroom.
Supplementary Resources : This program includes tools and templates to help you apply what you learned on the job.
Open your training with PUNCH!
A day in the life of a trainer
Using a Training Cycle
A trainer's process !
The training cycle
Training vs presenting
Learning objectives and tests
TNA
Identifying current skills / Review of TNA
- Audit
- Identifying gaps
- Competency frameworks
- Versatility Charts
- Benchmarking
- Job specification
- Key performance indicators
Adult Learning Principles
Adult learning key points
Assumptions and Applications
Intro to the design process
Reviewing resources Research learning theories
Designing a learning session /module:
Developing objectives and assessments
Training session structure
Instructional Design / Session Planning
a. E-learning considerations
b. Informal versus formal learning
c. Employee engagement
d. Varying learning method
e. Matching learning methods and KSAS
A sample template
Developing resources to support delivery
Developing feedback methods
Developing resources to promote the design
Quality assurance in design and development
Supporting learning and performance in the workplace
Reviewing your design from an organisational perspective
Learning and development plan
- What is it and how to use it
- Managing employee expectation
Sources of learning programs
Benefits to the business
Return on investment
The cost of not doing it
Regulation
Writing objectives
Applying verbs to levels of learning
Strategies for learning
Review
Personal action plan
Preparing Materials, The Environment, And Yourself
Developing training support materials
Ethical and legal considerations
Selecting and customizing off-the-shelf materials
Preparing the logistics for the session
Preparing to prevent nervousness
The Four Dimensions of Training
Four dimensions applied
Personal analysis
Training delivery style Question techniques
Preferences for Learning
Whole brain learning model
A learning cycle
How your training preferences affect learning?
Cultural uniqueness
Establishing a Positive Learning Environment
Ways to create positive learning
Practicing skill delivery
Managing challenging situations and participant behaviors
Overview of the evaluation process
Developing objectives at Kirkpatrick's four levels:
Results
PBehaviour
Learning
Reaction
Identifying appropriate solutions
Measurement and data collection
Case study exercise
Developing an evaluation strategy
Personal implementation planning
Self-assessment
Who Should Attend?
This program is ideal for both aspiring and experienced trainers who did not have formal education in training. It is also beneficial for those trainers who need a refresher to improve their classroom techniques and methods to transfer learning to work situations.

Asian College of Teachers programs are designed primarily for learning professionals - trainers, instructional designers and organizational development practitioners - but also greatly benefit anyone within an organization who is responsible for training, from managers to human resources specialists. Even lecturers and soft skill trainers will find this program helpful.
Delivery options
Public schedule mixed groups at various ACT's campus in Kolkata, Bangalore and Bangkok
Outsourced hotel locations in New Delhi, Mumbai and Kerala
In-company programs held at clients' premises worldwide
ACT Certification
Due to its unique range and scope, ACT Qualifications provide individuals and organizations with a means to develop a career pathway based on earning a certification in Learning and Developmental Skills
This Certificate delivers a competency set aligned to the relevant L & D Standards published by the Asian College Of Teachers
Meet Your Expert Course Leader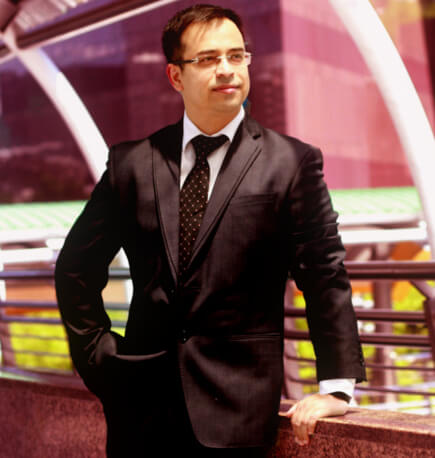 Dr. Sanjib Chakraborty has been an entrepreneur and strategy consultant in Asia since 2003. His experience has been extensive over the years and as an entrepreneur and strategy consultant his area of expertise has always ranged from hard core marketing to entrepreneurship keeping the focus on training, development and human resource. As an entrepreneur CEO, Sanjib has founded two companies and currently run several profit centers in Asia Pacific region.

Sanjib has earned his PhD in Management Studies from University of Hertfordshire, United Kingdom and double Masters Degrees - one in Business Administration (MBA) and the other one in Education (M.Ed). Sanjib has extensively researched on Entrepreneurship for his PhD and his research title was "Determinants and entrepreneurial intentions among employees working in SME organizations". He is into teaching and training for quite some time now and is associated as a lecturer with Stamford University in Bangkok. Moreover, he has been conducting several successful training workshops for adult learners around the world.

He has penned his first book on entrepreneurship and entrepreneurial journey titled "Hate your Status Quo" for the budding entrepreneurs where he has shared his deep knowledge and extensive experiences he has gathered as an entrepreneur over the years. This book helps the fledgling entrepreneurs with the transition as they set out on their entrepreneurial journey as they are about to take that road and get ready to handle both the risks and the rewards of entrepreneurship.

He has been awarded Indo-Thai Chamber of Commerce (Thailand) - Young Entrepreneur of the Year 2010 by Dr Kiran Bedi and also 26th Indian Achievers Summit New Delhi (India) - The Challenges of Economic Growth & Social Development Year 2010 by Dr Bhuta Singh. Sanjib has traveled to 25 countries for both work and business purposes and is a member of many prestigious education and entrepreneur organizations and foundations.