Course Overview
| | |
| --- | --- |
| Eligibility: | English Communication & writing |
| Trainer: | Highly qualified with years of experience |
| Accommodation: | Assistance for outstation trainees |
| Application: | Online Application |
| Registration: | Rolling |
This course will help you :
Understand the basics of adult learning theory and how to prepare for and facilitate a training program
Gain a foundation in conducting a need analysis, developing learning objectives and evaluating the impact of your training initiatives
Learn and apply effective training techniques for managing participants, implementing a variety of learning styles, creating a positive learning environment and managing classroom challenges
Develop engaging training solutions that are learner-centered
What can you expect?
Pre-Work : Complete a self-assessment and read an ACT Infoline titled, "Do's and Don'ts for the New Trainer".
Homework : You will feel the need to do some preparation for your skill practice outside the classroom.
Supplementary Resources : This program includes tools and templates to help you apply what you learned on the job.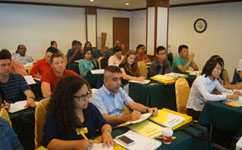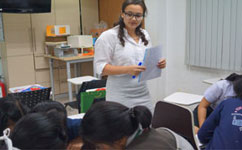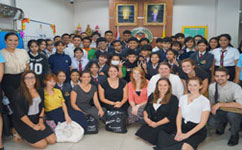 Duration and Dates
Course Length: 4 days intensive module course
Dates 2018:
Bangalore
​24th Feb to 27th Feb 2018
10th May to 13th May 2018
23rd Aug to 26th Aug 2018
15th Nov to 18th Nov 2018
Mumbai
27th Jan to 30th Jan 2018
05th Apr to 08th Apr 2018
28th Jul to 31st Jul 2018
22nd Nov to 25th Nov 2018
Delhi
09th Jun to 12th Jun 2018
Fees
4 days intensive in class module course
Reasonable course fee of Rs 25,000 excluding accommodation
Candidates can opt for varied payment options
Trainees availing College of Birmingham certificate have to pay extra
Certification
Trainees will get a globally recognized certificate from Asian College of Teachers (ACT)
Trainees get certified by the prestigious Training Qualifications, UK
All the certificates are accredited by recognized bodies
Mentor
Dr. Sanjib Chakraborty has been an entrepreneur and strategy consultant in Asia since 2003 and has earned his PhD in Management Studies from University of Hertfordshire, United Kingdom and double Masters Degrees - one in Business Administration (MBA) and the other one in Education (M.Ed). Sanjib has extensively researched on Entrepreneurship for his PhD and his research title was "Determinants and entrepreneurial intentions among employees working in SME organizations". He is into teaching and training for quite some time now and is associated as a lecturer with Stamford University in Bangkok. Moreover, he has been conducting several successful training workshops for adult learners around the world.

He has penned his first book on entrepreneurship and entrepreneurial journey titled "Hate your Status Quo" for the budding entrepreneurs where he has shared his deep knowledge and extensive experiences he has gathered as an entrepreneur over the years. This book helps the fledgling entrepreneurs with the transition as they set out on their entrepreneurial journey as they are about to take that road and get ready to handle both the risks and the rewards of entrepreneurship.

He has been awarded Indo-Thai Chamber of Commerce (Thailand) - Young Entrepreneur of the Year 2010 by Dr Kiran Bedi and also 26th Indian Achievers Summit New Delhi (India) - The Challenges of Economic Growth & Social Development Year 2010 by Dr Bhuta Singh. Sanjib has traveled to 25 countries for both work and business purposes and is a member of many prestigious education and entrepreneur organizations and foundations.